How does Garmin Fenix 5x plus smartwatch fare against the features offered by the Apple watch series 6? 
It's an old question:
should you buy Garmin Fenix 5x plus or the Apple watch series 6?
When I say old, I mean a few months back, given both of these smartwatches came out very recently to stir up the smartwatch scene.
Looking at the two resembles contrasting apples and… Garmins, truly. They were not designed for similar kinds of customers and offer various features that set them apart in their particular fields.
Garmin watches are held in high esteem among runners, cyclists and triathlon athletes, mainly for their accuracy and precision. They come in many flavours so athletes of all abilities can pick one that suits their needs the most.
They also have a lot in common with smartwatches, with features such as message and diary alerts. Certain models, including Fenix, also support music playbook and contactless payments. 
Nevertheless, Apple watch is considered the best smartwatches in the broader sense; always at the front of the row, leading the charge with top-notch functionality and the best design available in the market.
Apple made a great hit with its fitness trackers and targeted fitness enthusiasts more aggressively with its latest iteration of the Apple Watch. There is also a sizable fitness section in the Watch brand of Apple's App Store. But is the Apple watch series 6 good enough for you to consider it as a multi-sport smartwatch?
Or does Garmin Fenix still own the serious fitness smartwatch scene?
Let's find out in my own  Apple watch series 6 vs Garmin Fenix 5x plus
Head to Head
Garmin Fenix 5x plus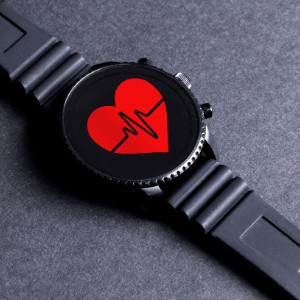 PROS:
1. Battery durability – Very few runners will need more than 32 hours of battery life in a single test.
2. Sapphire crystal – We won't have to worry about external elements. Nothing can scratch the screen
3. App – the application contains very detailed information with a very elaborate design.
4. Music – being able to store music directly on the watch is a plus and we save on carrying the smartphone
5. It doesn't matter what sport we are going to practice. We sure have a mode Even for Yoga!
6. Being able to view maps offline is of great help in most occasions.
CONS:
1. Maps – Map detail should be better in mountain areas. We lack necessary data that in case of emergency would help us.
2. We would like to be able to have more than 4 data fields on the screen. In many cases, it is enough, but you never know.
3. Does not include heart rate measurement
Few people will say that when Garmin launched the Fenix 5X it had nailed it with the ultimate GPS sports watch.
Garmin appears to want to keep pushing beyond that both in terms of features and specs, hence the Garmin Fenix 5X Plus, which it launched alongside the Garmin 5 Plus and 5S Plus. 
While at first glance this just appears to be an expensive version of the 5X, it has got more tech too, including a fancy new Blood Oxygen Measurement System. 
You still get the useful maps plus there's Garmin Pay for contactless pay on the go. There's also music on board via apps like Deezer and Spotify, including offline music sync. 
So do these new features add to the appeal of this top of the range wrist adornment for outdoor enthusiasts? Or is it too expensive ($850 / 750 pounds/ AU$ 1,249) 
The Garmin Fenix 5X Plus is a looker as GPS watches go, that's for sure. The exposed rugged screws and dark finish go well with that chunky build and solid buttons. The screen is colour and since it's not a touch screen it stays clear for bright and bold imagery during daylight and at night.
The standard wrist strap is suitably rubberised to offer a nice amount of flex and comfort while also feeling super strong. 
Since the watch is pretty hefty at near to 100g this needs to be done uptight, especially when running. While this might be a bit too tight for some, that flex does allow you to wear this day to day pretty comfortable. 
You still get the same 240 x 240 resolution display as the Garmin Fenix 5X offered, which is fine, even for maps, but that chunky bezel is still there too. Despite smartphones moving away from bezels to the great pleasure of customers, because it just looks better, Garmin is still showing no signs of leading that trend for GPS adventure watches.
At 17.5mm thick this smartwatch is a challenge to slip under a wrist opening on jackets but it's not a deal-breaking issue since that extra size means a lot of features indeed. 
However, when wakeboarding, for instance, we had to wear this over the wetsuit, meaning heart rate tracking was lost, which is a negative aspect of this smartwatch. One coil rolls the sleeve back but it wasn't as comfortable and frankly with a watch this size you can already find yourself feeling off-balance. 
This smartwatch has it all. One will get all the previous sensors including GPS, GLONASS, optical heart rate, barometric altimeter, compass, gyroscope, accelerometer and thermometer.
But now you also have the new pulse oximeter to measure blood oxygen. Also, GPS features the latest Galileo system for even more accuracy and rapid location acquisition. 
So is the oximeter something you are going to need over the heart rate monitor? For most of the people who are travelling on high altitudes like mountain climbing when oxygen becomes less this smartwatch becomes handy.
For us living on the ground level, there is very little difference to be seen. 
Also, this is a very sensitive system that uses a red light, rather than the green heart rate light, meaning it must be measured when stationary. So it's more effort to check. 
GPS is impressive. The acquisition is near-instant when you step outside, so you can get exercising right away. 
The accuracy is also superb as you can even see slight deviations on trail runs that might otherwise not have been picked up on older models or other brands. They almost certainly would get missed out if you were to use a phone, for example. 
The maps are another performance area that sets this watch apart. This plus model is set apart from its brethren thanks to the pre-installed worldwide dem base map, which gives plenty of detail not only when out for walking, but also on roads and in cities. 
Since one can program routes into the watch, effectively this like your little sat nav for tracking as well as for guidance. The new maps use an open street map layer which allows Garmin to suggest the ideal route for your run or cycle or hike. 
This is just another way that this watch lets you ditch the phone while still feeling confident. Even zooming in and out of the map on that small screen is made easy enough for this watch to be a genuinely useful mapping device. 
Points of interest also pop up on the map, but these are more useful for when out hiking than most other sports. 
When out you can enjoy setting up new layouts on the smartwatch. This is something Garmin excels at and in the case of the Fenix 5X Plus, it has near perfected personalization, where you should be able to have all the data you need at a glance on one screen, or at least across two if you like. 
Since this changes across sports you can create the perfect setup for everything you do, instantly remembered from the last edit so you are ready to hit go and enjoy.
Apple watch series 6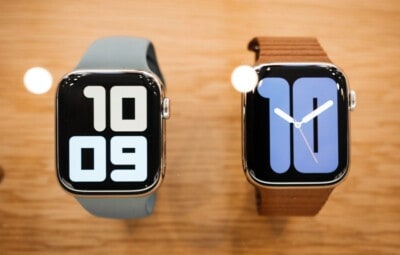 PROS:
1. Measures blood oxygen saturation (SpO2) on demand
2. Always-on altimeter for real-time elevation tracking
3. Improved wrist-down screen brightness\
4. WatchOS 7 adds a handwashing countdown timer and sleep tracking
5. Fast new processor
6. Best third-party app selection
7. Attractive new watch colours and band options
CONS:
1. It is Expensive
2. It Offers only a slight battery life improvement
It packs some new sensors, some new software tricks and some new colours; all of which begs the question: should you buy one?
The new Apple Watch Series 6 comes with some new lifestyle and fitness features and now sleep tracking, along with the ability to measure the oxygen in your blood.
All of that newness is wrapped up in the familiar old Apple Watch case.
Yes, the design remains unchanged from Series 4 and 5 models, however, comes in a few new flavours such as blue aluminium, graphite stainless steel, product red, and fetching new gold colour.
From a design perspective, we have no problems with the watch generally looking the same. It is still plenty big enough a screen for you to prod away at, and the two 40-millimetre and 44-millimetre cases won't bog down your wrist. In fact, as per usual it's super comfy.
Under the hood, you get Apple's sixth-generation S6 chip, which Apple touts as its best watch chip ever. It's 20 per cent faster than the previous watch, and the always-on display has been given a two times boost of brightness.
The Series 6 has also been given a brand new sensor – a blood oxygen sensor – that will do exactly what it says on the tin. For most people, this will be a trivial sensor to play with a few times and forget. But for some people, it will be a literal lifesaver.
There's also an always-on altimeter, for when you are running or hiking.
You get all of that for the same 18-hour battery life of the original.
Apple's class-leading Watch Operating System is still as good as ever, with some new tricks up its sleeve that will also benefit Series four and five owners. Sleep tracking is a big feature that everyone can benefit from, as the watch will now sync sleep data to your phone's Health App.
That goes hand-in-hand with Apple's new wind-down mode, which lets you set up reminders and turn off certain features – such as notifications for example – 30 minutes before bed. Then, while you are sleeping, it will dim all your screens accordingly.
The Apple Watch was already an excellent training partner, and this one is no different. The built-in workouts app can now recognize a few more types of training, but as per usual it's pretty solid.
At the launch of the Series 6, Apple unveiled a cool new service called Fitness+. It will use your Apple Watch and a connected iPad or iPhone to serve you up video fitness classes – effectively, it will turn any old exercise machine into a super smart one. But unfortunately, we don't know when that will arrive here in the middle east.
Performance-wise everything works well. Swiping through menus and zooming in and out of apps is super responsive, and you'll be hard-pressed to make it stutter.
The Apple Watch Series 6 is a very capable smartwatch then, and with that added sensor, faster processor and the brighter screen is certainly still the best smartwatch on the market. But let's get back to the question at hand: should you buy one?
For current owners of Apple's Series five, probably not. It's just not enough of an upgrade. But if you have a series four or below on your wrist. That always-on display is a real gamechanger, and you'll certainly notice the performance upgrade.
Conclusion-
To put it as simple as possible, Apple Watch is an incredible smartwatch that is additionally extremely helpful for individuals hoping to get fit. For getting a snapshot and reality of your fitness and doing essential tracking of your sporting activities, it's better than the Garmin. … However, for the time being, Garmin Fenix 5X Plus has the edge.