There are several biggest screen-size smartwatches available in 2022. Smartwatches can now be bigger, almost like mini-smartphones, but with bands to keep it on your wrist. Current smartwatches like the Apple Watch and Samsung Watch may not provide enough user interface for large operations.
Few companies have exploited this niche in 2022 and have given us the LOKMAT APPLLP Max
smartwatch. Other smartwatches with the biggest screen size in 2022 include the Ticwris Max 4G, DM101 4G, and the expected Apple Watch Series 8. Because of their large screens, most reviewers call them mini smartphones. 
Here is the list of the biggest screen size smartwatches I will explore in this 2022 edition.
| | |
| --- | --- |
| Smartwatch model | Screen size |
| LOKMAT APPLLP Max | 2.88 inches |
| Ticwris Max 4G | 2.86 inches |
| HAZZLER (Upgraded DM100) | 2.86 inches |
| Rainbuvvy 4G Smart Watch | 2.86 inches |
| DM101 4G | 2.41 inches |
| Apple Watch Series 8 | 1.90 inches |
1. LOKMAT APPLLP Max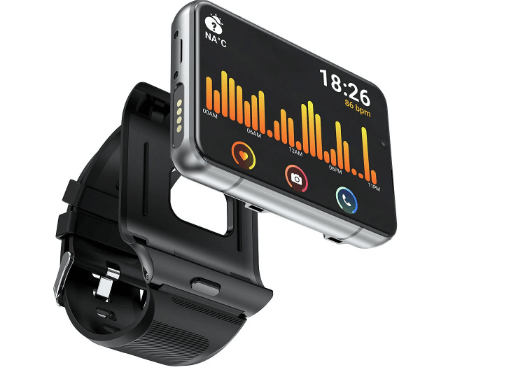 Specifications
| | |
| --- | --- |
| Display screen | 2.88 Inch |
| System | Android 9.0 / IOS 11+ |
| RAM/ROM | 4GB+64GB |
| Charging method | Magnetic charging |
| Charging time | 3 hours |
| Battery life | Three days |
| Effective Bluetooth Distance | 10 meters |
| Sim Card | Nano-sim |
| WiFi | 2.4G/5G |
| Camera | 5MP/13MP |
Lokmat has a detachable wristband. That means you can use it as a mini smartphone. Furthermore, it allows you to track four different sports. Those included are indoor and outdoor running, walking, and hiking. Its GPS feature is accurate and will monitor your real-time exercise path.
The 4GB RAM means that this biggest screen smartwatch is fast enough in executing commands and does not lag when gaming or using social media.
Despite being bulky, Lokmat Max feels comfortable on the wrist. You can wear it the whole day without lamenting about the size. I would recommend the Lokmat Max to anyone who wants a smartwatch with more customization options than you can find anywhere else in the market.
However, Lokmat Max is not fully autonomous. Unlike your typical smartwatches, it has a sim card slot. Without a nano sim, you cannot make calls or text using Lokmat Max. However, it will pair to your phone with Bluetooth. That means you have to have your phone around you if you don't miss important notifications. See the latest features and price of the Lokmat Max here on Banggood.com
2. Ticwris Max 4G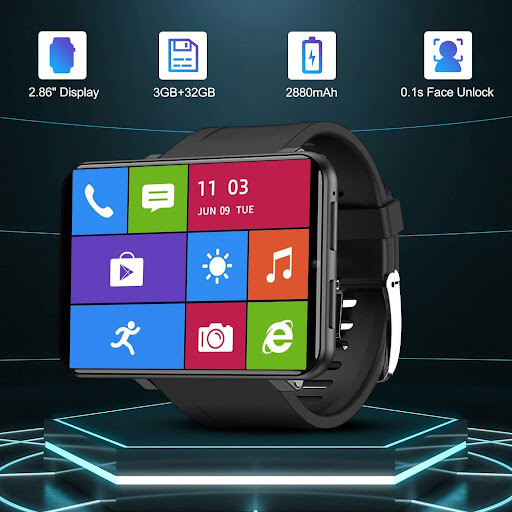 Specifications
| | |
| --- | --- |
| Display screen | LCD, 2.86 Inch |
| Operating System | Android |
| RAM/ROM | 3GB+32GB |
| Charging method | Magnetic charging |
| Charging time | 2 hours |
| Battery life | Two days |
You should try the Ticwris Max 4G
. This 2.86-inch display smartwatch will cost you around $219.99 on Amazon. It's 2880mAh battery life eliminates the need for daily charging, enabling you to focus on the tasks at hand till completion.
As technological innovations increase, battery life improves significantly. It takes about 2 hours to charge the Ticwris Max, and with that, it can run many Google Play Store applications for three days. It operates on Android and provides a beautiful LCD screen for gaming and working.
Unless you have a touch pencil for a small screen smartwatch, the speed and accuracy of simple tasks like making calls or writing a message are greatly diminished. Ticwris Max 4G is easier to use because of the biggest screen size and thereby increases your productivity.
For the latest price, check out Ticwris Max 4G on Amazon
.
3. Hazzler smartwatch (Upgraded DM100 LEM T)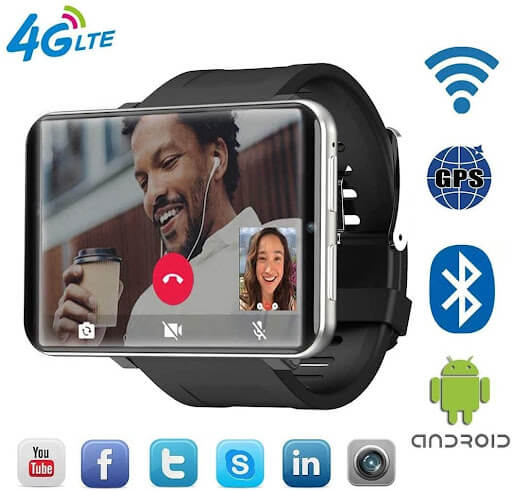 Specifications
| | |
| --- | --- |
| Display screen | 2.86 inches |
| Operating System | Android 7.1 |
| Network | 4G LTE |
| RAM/ROM | 3GB + 32GB |
| Camera | 8MP |
| Supported sim cards | At&t, T-Mobile, Metro |
| Battery | 2880mAh |
The Hazzler smartwatch has the same screen size as the Ticwris Max 4G. However, unlike the Ticwris Max, Hazzler is not recommended for small wrists or for people who are not tech-savvy. Customizing the smartwatch to your own needs requires that you are conversant with the Google Playstore. 
The biggest screen size provides an unprecedented immersive visual experience for playing games and watching videos. Considering that the Hazzler is an updated version of the DM100 LEM  T, its 8.0MP camera offers good image and video resolutions. 
Most importantly, Hazzler smartwatch 4G has health and fitness tracking metrics including a pedometer, heart rate monitor, and a blood pressure monitor. You can integrate the smartwatch with your phone to get real time calls, messages, and health notifications. However, you must activate the Hazzler with a compatible sim card.
However, the bigger screen size will give you more room for text and analysis of any personal or work-related objectives. Get the price and latest updates on the Hazzler smartwatch here on Amazon.
4. Rainbuvvy 4G Smart Watch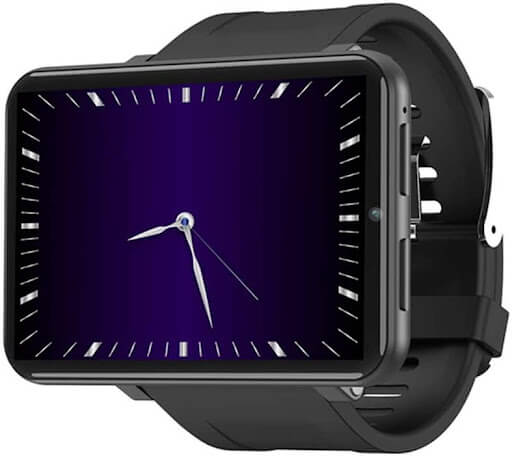 Specifications
| | |
| --- | --- |
| Display screen | 2.86 inches |
| Operating System | Android |
| Network | Bluetooth, cellular, wi-fi | 4G |
| RAM/ROM | 1GB+16GB | 3GB+32GB |
| Camera (Front + Side) | 5MP |
| Supported sim cards | T-Mobile |
| Battery | 2700mAh |
Although the battery holds charge for a long time, the Rainbuvvy 4G smartwatch lags behind the Hazzler in that category. Nevertheless, the battery life is adequate for most users. It will give you enough power to run most applications for hours. With that, you can enjoy Rainbuvvy's biggest screen size in 2022.
To pair it with your android smartwatch, you will need a compatible nano sim like the T-mobile. If you are not sure about compatibility with a sim card, you can order one alongside the Rainbuvvy 4G smartwatch
. Despite its relatively heavyweight, the smartwatch is easy to set up and connect to a smartwatch.
The big display is further enhanced by a 3GB random access memory for reducing lagging during use. However, if you are on a budget and you want the biggest screen size smartwatch in 2022, Rainbuvvy has a 1GB RAM option. So you can get all the features but at reduced functionality. Check out its impressive features and cost on Amazon
.
With the Rainbuvvy 4G, you will not miss much. You can monitor your heart from its in-built sensors and capture moments with significant clarity.
5. DM101 4G smartwatch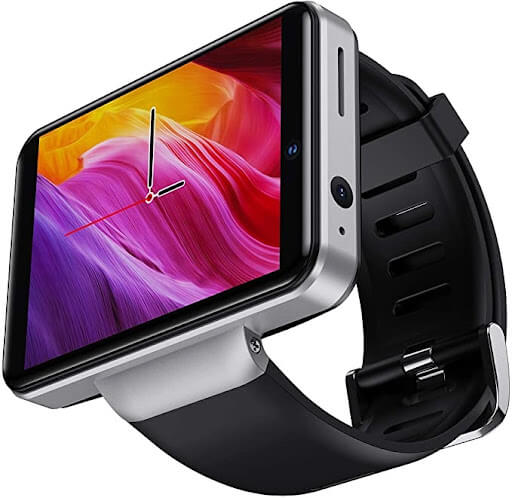 Specifications
| | |
| --- | --- |
| Display screen | 2.41 Inch |
| Operating System | Android |
| RAM/ROM | 3GB RAM + 32GB ROM |
| Camera (Front + Side) | 8MP + 2MP |
| Charging time | 2 hours |
| Battery life | Two days |
DM101 4G
follows suit with a 2.41-inch display. It costs $189.99 on Amazon and supports Android 7.1. It comes in two variations, the 1GB RAM 16GB ROM and the much faster 3GB RAM and 32GB ROM. 
Unlike the Lokmat Max,  DM101 4G has a 2MP side camera and an 8MP front camera. Although it allows for face ID and face calls, it may not provide clear images.
You can connect DM101 4G to your smartphone through the Wiiwatch 2
app. The app allows you to receive phone calls and notifications on your big smartwatch. However, you must insert a nano sim to the sim card slot of these big screen smartwatches to sync calls and messages. 
Find the latest price and specifications of the DM101 4G on Amazon
.
6. Apple Watch Series 8
We expect Apple to release the Apple Watch Series 8  in 2022. According to the Times of India
, the new release will have a display screen of 1.9 inches compared to the 1.78 inches of its Series 7 predecessors. 
With the Wiiwatch 2 app, you will send files across your devices and record your health and fitness results. However, you will need to install Strava if you need the same services on Apple Watch Series 8. 
If you must buy a smartwatch with the biggest screen in 2022, wait for the 1.9 inches Apple Watch Series 8, or buy the Lokmat Max. These two can provide near-accurate results for your health and fitness metrics and capture clean photos.
Cons of biggest screen size smartwatch
Unlike the other smartwatches that we are used to, Lokmat and Ticris Max are unsuitable for swimming. Their big screen size increases their exposure to damaging elements, and as such, I recommend using a professional swimming watch. 
Likewise, the biggest screen size smartwatches do not come out as professional watches. In other words, it does not provide a formal feel for formal events. Instead, it appears informal and is not recommended for office duties. 
But if you work in a construction site where you need both hands, having the Lokmat Max on your wrist gives you significant flexibility.
Although Lokmat Max has added heart and blood monitoring features, they may not be as accurate. Therefore, you should not rely on the figures without consulting a medical expert. You can find a more reliable heart sensor in the Apple Watch.
Conclusion
Lokmat Max, Ticwris Max,  and DM101 4G smartwatches allow you to play music, watch videos, and play games on their big screens. These biggest size screen smartwatches will increase your productivity because they provide a large area for browsing and working. 
Although smaller than smartphones, these pieces of technology provide the smartphone experience. The fact that they are on your wrist makes them easy to access while allowing your hands to perform crucial tasks.