A Pulse oximeter is a test that tells oxygen saturation and heart rate monitor of the patients. During the Covid-19 situation, you must have a Pulse oximeter as a device in your home. The lower oxygen saturation level is a sign of Coronavirus. 
You might be thinking that smartwatch has this feature. And, now the question arises, can we test oxygen saturation and heart rate with our smartwatch? 
The answer is, yes, many smartwatches have this feature and they tell your oxygen saturation and heart rate very accurately.
Now if you're looking for a smartwatch who has this feature continue reading this wonderful article.
Which Models of Smartwatches Have a Pulse Oximeter?
There are many fitness smartwatches available in the market. But, I will cover those that have good accuracy. After thorough research, I found 9 watches that you can consider for better plus oximeter results. 
1. Realme smartwatch
Our first smartwatch in this list is Realme. This smartwatch will monitor your oxygen saturation and heart rate. This device is accurate and gives you the same results as a professional pulse oximeter.
Heart rate monitor: Realme has a high-quality PPG heart rate sensor which supports you throughout an entire day. If your heart rate goes high or low, it will indicate the information. 
Check the Heart rate monitor accuracy chart provided by real me in the picture below.

Oxygen saturation level: Realme provides you an accurate oxygen saturation level and it is important for your health. Lower-Value of oxygen saturation leads you to serious health problems or viruses. Check the oxygen saturation accuracy chart provided by Realme in the below picture.

*  Above images are for reference only.. Can't be used for medical purpose.
2. Honor 5
The second one on the list is Honor 5 smartwatch. It is a fitness watch and has all fitness activities tracker features. Honor 5 gives you very accurate oxygen saturation and heart rate.
Heart Rate Monitor: It has a heart rate tracking feature which continuously tracks your heart rate monitoring. Check out the accuracy chart by the official Honor company.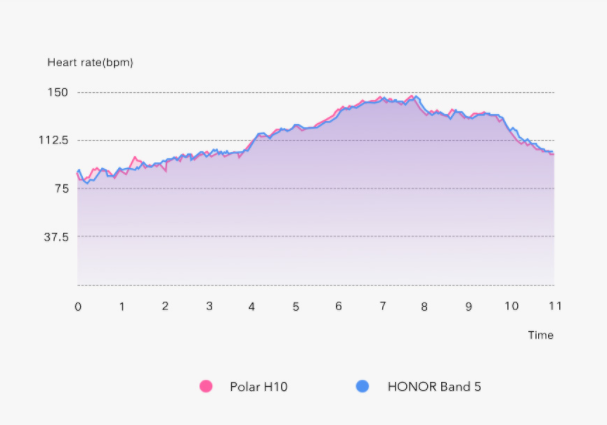 Oxygen Saturation Level: Honor tells you almost the same oxygen saturation level as the professional pulse oximeter. You can consider this fitness band if you're a fitness freak.
3. Huawei Band 4 Pro
The next one is the Huawei Band 4 Pro. It is also a fitness watch for fitness lovers. This band supports oxygen saturation and heart rate monitoring and it gives you the accurate results.
Heart Rate Monitoring: Huawei has a heart rate monitoring feature which notifies you about your heart rate. You need to sync with your phone to do this action. It can continuously track your heart rate and give you notification if the heart goes in the abnormal stage.
Oxygen Saturation Level: Huawei has SpO2 (also known as oxygen saturation) feature. It will allow you to track your blood oxygen saturation levels. You may not be able to see this option because many people are facing this issue if you haven't received SpO2 or haven't seen this feature in your app.
Send screenshots of the updated information of your band to screenshots@huaweicentral.com and thank me later (In the comment section).
4. Honor magic watch 2
This smartwatch comes with a pulse oximeter with it. This watch was launched last year in December. Honor Magic Watch 2 can perform oxygen saturation and heart rate monitoring with accuracy. This watch is made for fitness freaks and has 15 fitness modes for both indoor and outdoor such as swimming, running, claiming etc. 
Heart Rate Monitoring: Yes, it has this feature. Measuring your heart rate while you are swimming, workout or any fitness activity. But, it doesn't mean that it will only work if you workout, you can check your heart rate even if you're lazy. So, to all the lazy people out there, this watch is for you.
Oxygen Saturation Level: Honor Magic Watch 2's SpO2 monitor will measure your oxygen saturation levels in the bloodstream so that you can check how your body is doing during workouts on high intensity.
5. Letsfit
This is a pretty good watch as it comes with less price and more features. Letsfit comes with 3 models. 
I recommend you to go for Letsfit ID215G. 
It not only tracks your calories and steps, but also provides you the heart rate and spO2 monitor tracking feature.
Heart Rate Monitor: I have researched and checked that the heart rate monitoring works pretty well on this device. It gives you sharp and accurate results.
Oxygen Saturation Level: It also provides you with the same results of oxygen saturation as provided by the fingerprint or any other professional plus oximeter. 
I have compared and found that it fits with Apple Watch series 5 and it is giving the same results. 
6. Garmin Forerunner 245
Another affordable option is Garmin Forerunner 245 by Garmin Company. I personally use this watch and it is quite accurate. Every time I check the details, it tells me the same results.
Heart Rate Monitor: Garmin Forerunner 245 is an excellent watch for active people who worked pretty intense.
Oxygen saturation level: Now this watch is different because it will track how much oxygen is moving in your blood cells while you sleep. You need to sync it with your phone. 
How to turn on this feature?
Just move to widget > hold up > Select Sleep Pulse Ox > On.
7. Fitbit smartwatches
Fitbit is a big brand just like Apple and Samsung. I'm showing a list of affordable smartwatches that have plus oximeters. 
While researching, I found that these three gave more accurate results than other Fitbit watches.
Fitbit Versa 2
charger 3
ionic
These above mentioned smartwatches have a heart rate and oxygen saturation level tracker, you can buy according to your need.
Heart Rate Monitor: As you know that it's a premier watch, it's obsessive to give you better results to stand out in the market. They are pretty accurate for Heart Rate Monitor. But not the most accurate on the list.
Oxygen Saturation Level: Same goes for spO2 level, it gives you better results than most watches and has the same feature as Garmin Forerunner 245 as it tracks your sp02 while sleeping.
8. Huawei Watch GT2e
Huawei GT2e is the next good option to consider for tracking your Heart rate and oxygen saturation level. This watch will cost you around $126.
Heart Rate Monitor: Perfectly fine for heart rate monitoring. Give you the same results as Professional Pulse Oximeter.
Oxygen Saturation Level: HUAWEI WATCH GT 2e supports single-time oxygen saturation level measuring, helping you to detect your level of oxygen in the blood wherever and whenever you want.
9. Garmin Venu
Our last one on the list is Garmin Venu which is made by Garmin Company. This watch will cost you around $349.99. As I mentioned earlier, Garmin watches work pretty accurately and this watch also works good.
You can check out it's all features and updated price here
Heart Rate Monitor: It comes with a built-in 24 hour tracking heart rate monitoring. Don't worry about high or low value, it will notify you when your heart rate goes abnormal.
Oxygen Saturation Level: Garmin Venu PULSE OX SENSOR Works well and it is pretty accurate. It tells you 93-95% accuracy. On Professional Pulse Oximeter, the accuracy is 99-98%.
I think this feature is pretty common on every smartwatch. But I have covered each watch according to the accuracy and you can choose the best for you.
Tips To Get Accurate Pulse Oximeter Data
Clean your arm before wearing a smartwatch.
Clean sensor under your smartwatch. 
Keep your arm motionless and while tracking and track your SpO2 in a calm environment.
Using a silicone band will help you get accurate results.
Avoid scratching the sensor area on the back the watch.
Why Are Pulse Oximeters Becoming  More Common?
Lower SpO2 can lead you to Hypoxemia disease and it may be a problem due to short breathing, slow heart rate, Rapid breathing etc. So it's compulsory to know your Oxygen saturation level.
Normal range of SpO2 is 95 to 100% value. Value under 90% is considered low.
A pulse oximeter is common because most smartwatches have this feature and help you to track your health. And leads you to a good and healthy life. 
Conclusion 
Getting a smartwatch with Pulse oximeter is a good choice for your health. Smartwtach will tell your Oxygen saturation level (SpO2 ) in your blood. Smartwtcahs gives you ideas whether your SpO2 is normal or not. They are just for references and cannot be used for any medical purpose. 
Giving you an idea of lower oxygen saturation and heart rate is a huge advantage. 
Disclaimer: Above given information must not be used for any medical purpose. The watches mentioned above have pulse oximeter features in them. Thank you. 
If you find anything informative or have any queries, you can comment below. I will reply soon as I can.