If you are not an expert in or enthusiastic about technology, you may want to know how does a smartwatch work? It may be challenging to shift from a traditional watch to a smartwatch. But that should not be a deterrent to owning a smartwatch. If you know a thing or two about a smartphone, it is time to buy a smartwatch.
A smartwatch works by integrating most of the components of a smartphone. In a smartwatch, the parts are reduced to fit on your wrist like traditional watches. In addition to showing the time, a  smartwatch also tracks your health and provides notifications very conveniently.
I will tell you how a smartwatch works from the moment you unbox it and how to pair a smartwatch with a smartphone. We will also look at factors to consider when buying a smartwatch. But first, let us look at the smartwatch types.
Recommended: Best Cheap Smartwatch for iPhone:
What are the Two Types of Smartwatches
The type of smartwatch determines how a smartwatch works. The two types of smartwatches are;
1. Activity-Specific Smartwatch
These smartwatches have one dedicated function besides showing the time. Examples are a hiking watch and a diving watch.
Unlike multipurpose smartwatches, activity-specific ones do not necessarily require pairing to a smartphone. They may not support most applications except those with related functions.
Activity-specific smartwatches have crisp and visually engaging digital screens that show the detailed mapping of your exercise data.
Most importantly, they have extended battery lives and can withstand intense athletic activities like cycling, running, and swimming.
Examples include the Garmin Fenix 6 Pro and the Suunto 9 with BARO. These can have touchscreens or analog screens.
2. General-Purpose Smartwatch
These are the market standard smartwatches – they do it all. According to most smartwatch users, a general-purpose smartwatch is a wearable computer in the form of a watch.
The operating system of general-purpose smartwatches allows for additional apps besides the default apps. That way, applications can extend the functionality of these smartwatches significantly.
General-purpose smartwatches work on various operating systems. You may prefer to purchase a smartwatch that runs on Apple's WatchOS, Android Wear, or Tizen for the Samsung Galaxy Watch.
Apple Watch Series 5, Samsung Galaxy Watch Active 2, and Fitbit Versa 2 are examples of general-purpose smartwatches.
You can install endless apps on them. For example, Calcbot for calculations in Apple Watch and Evernote to capture your ideas whenever inspiration strikes.
Apart from time and activity-tracking, general-purpose smartwatches allow you to make calls, send messages, and receive instant notifications. This is the primary selling point for smartwatches, in addition to health and fitness tracking.
The best answer to "how does a smartwatch work" is found when you own a smartwatch. And that starts from the moment you unbox it.
Recommended: 9 Reasons Why Smartwatches are Important
What is Inside a Smartwatch Box/Package?
The package contains a charger, which may come in three parts: a wall plug, a wireless charging stand, and a micro-USB cord for connecting the two.
Some smartwatches like the Apple Watch Sport and the Galaxy Watch Sport also come with an extra watch strap. 
When you buy a smartwatch, the first thing is to charge it, the same way you do to a smartphone.
The brand or model of a smartwatch does not matter at this point. In this article, I will tell you how a typical smartwatch works. Afterward, you will purchase a smartwatch that fits your budget and preference.
How Does a Smartwatch Work With a Smartphone
It is important to note that most smartwatches are designed to sync and work in conjunction with a smartphone. Therefore, the primary limitation of smartwatches is that you must have a smartphone.
When paired with a smartphone, a smartwatch's functionality increases significantly.
First, you have to install the app that came with your smartwatch. For instance, you install the Watch app for Apple smartwatches and the Android Wear app for Android smartwatches.
You can then connect your smartphone to your smartwatch through the settings of both devices. The same way you would connect a Bluetooth headphone to a smartphone.
Since the connection is Bluetooth-reliant, a smartwatch will work within a defined radius from the parent smartphone. For instance, Fitbit can pair, sync, and provide notifications 30 feet from the smartphone. 
The syncing distance can vary depending on physical obstructions like walls. However, smartwatches with an in-built eSIM or a SIM slot allow for smartwatch autonomy. So you can make or receive calls from your smartwatch even when far from your smartphone.
As technology advances and the processor becomes smaller and smaller, several manufacturers are integrating SIM slots into smartwatches. Other smartwatches like the Samsung Galaxy Watch4 series and Amazfit GTR 2 LTE Version support eSIM.
It is my opinion that a smartwatch works better than a traditional watch. Despite the type of smartwatch you purchase, you will get significant benefits.
Factors to Consider When Buying a  Smartwatch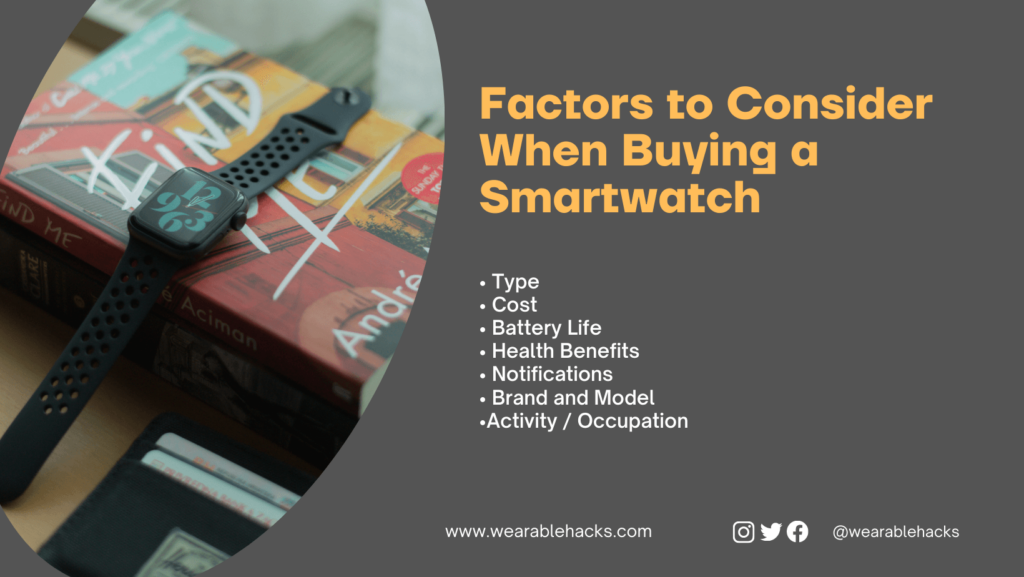 Several factors determine how a smartwatch works and which one to buy.
1. Battery Life 
You do not want a smartwatch that drains power so quickly. While other smartwatches can last for days on a single charge, others may be disappointing. For example, the battery life of the Garmin Fenix 6X Pro is 21 days. 
On the other hand, the Apple Watch Series 6 lives up to 18 hours. Be sure to select a smartwatch whose recharging cycles will work well with your occupation. 
Learn more about smartwatches with the most extended battery life here.
2. Health Benefits 
The notification feature is key to your safety. Whenever smart digital watches detect a health emergency, the authorities are alerted. A smartwatch may save your life as it has done to so many users around the world.
When buying a smartwatch, heart rate monitoring, fall detection, blood oxygen, and GPS tracking are critical considerations. For this reason, smartwatches are a recommended investment.
3. Notifications
Smartwatches work so well in providing us with timely notifications. The convenience and accessibility of a smartwatch on your wrist mean an advantage.
A smartwatch allows you to send messages, make calls, and receive email and other critical health notifications anytime. For instance, you can customize the notifications setting for a smartwatch to vibrate when you are in a meeting.
Other significant factors to consider when buying a smartwatch include the brand, model, size and, most importantly, the cost of the smartwatch.
Conclusion
The best answer to "how does a smartwatch work" is found when you own a smartwatch. And that starts from the moment you unbox it. 
A smartwatch works like a computer, with its parts reduced to fit your wrist like traditional watches. However, you get so much more than just time.
Not only will you stay fit and healthy, but you will not miss a crucial notification. Besides, you get emergency services by owning a smartwatch. 
Now that you know how a smartwatch works, it is time to have one for yourself and your family.
Recommended: Everything You Need to Know About Smartwatches.