One of the most common questions asked by all the tech lovers from all over the world is why Apple Watch is the best? In addition to the most accurate, legit and exceptional watch, Apple Watch is loved by athletes, busy professionals, and students. 
Apple Watch is not just a timepiece as it can do a lot more than just a normal watch. The watch comes with a whole lot of features such as sleep tracking, fitness tracking, heart rate monitoring, GPS tracking of workouts, unlocking the Macbook, using Siri, taking an ECG reading, etc. 
Why Do People Love Apple Watches?
Apple watch has done something outstanding when it comes to sleep, design, and features. It easily fits in everyone's lifestyle because it is a well-known brand.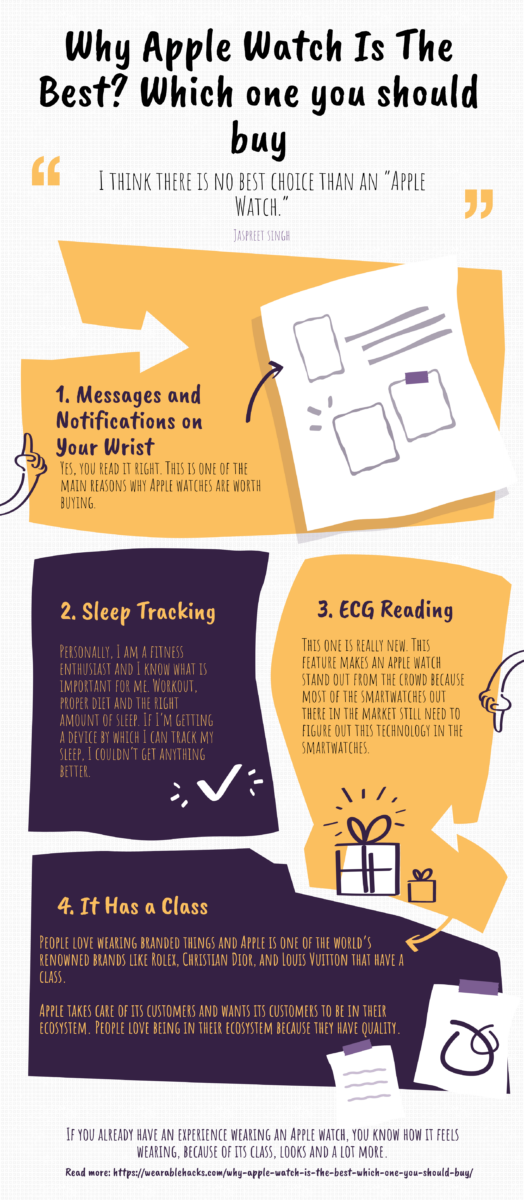 If you are an Apple fan, you might already know that Apple has its own ecosystem. This is one of the reasons why people love Apple devices, not only smartwatches, but also smartphones, laptops, and everything that Apple owns.
For people who are fond of technology, they know that Apple is one of the companies that remains up-to-date with the current advancements.
Also, people love to be valued and Apple takes care of this need. In this case, people feel great about themselves when they wear an apple watch (any series).
Why Apple Watch Is The Best?
Well, no one can deny the fact that the Apple Watch is the best and there are a lot of reasons to prove this fact. Apple stands out the crowd in many factors, some of them are:
1. Get Messages and Notifications on Your Wrist
Yes, you read it right. This is one of the main reasons why Apple watches are worth buying. 
You are getting notifications on your wrist without getting a phone out from the pocket. How cool is that right? Isn't it?
Whether you are a busy professional.
2. Fitness Tracking
Who doesn't want to get fit? Does everyone want to? But, who has the time to track everything? Most of us don't. Right? 
Do we have to spend our lives like this? I know most of us are busy and don't have time to track everything because you have to do many important things in life to pay bills. 
Then what is the solution? 
How can you save your time, do the important work and track your fitness level at the same time?
I think there is no best choice than an "Apple Watch."
Apple is one of the best smartwatches available in the market today that can track the fitness level of a person efficiently.
KUDOS to those who have an Apple smartwatch and using this amazing feature.
3. Sleep Tracking
If you know something about fitness you might be aware of the fact that how important sleep is? 
Most people don't focus on sleep because they don't know the importance of sleep and how it affects their overall life.
Taking proper sleep helps improve your work efficiency, fitness level and mental health. It plays an important role and one must not ignore this fact. 
What if I tell you that you can track your sleep with the help of a watch? What will be your reaction? You will be astonished. I know I was too when I got to know about this feature. 
I am talking about the "sleep tracking feature" in the Apple watch.
Personally, I am a fitness enthusiast and I know what is important for me. Workout, proper diet and the right amount of sleep. If I'm getting a device by which I can track my sleep, I couldn't get anything better. 
I think this is one of the best things that the Apple Company has done. And, this is why most people love Apple watches.
4. ECG Reading
This one is really new. This feature makes an apple watch stand out from the crowd because most of the smartwatches out there in the market still need to figure out this technology in the smartwatches.
ECG reading started with the Apple series 4. It can check your atrial fibrillation. 
I know you have started loving Apple watches right away. 
But, there is a lot more to know. Go ahead!!!
5. It Has a Class
People love wearing branded things and Apple is one of the world's renowned brands like Rolex, Christian Dior, and Louis Vuitton that have a class. 
Apple takes care of its customers and wants its customers to be in their ecosystem. People love being in their ecosystem because they have quality.
6. Apple Remains Up-To-Date 
Tech lovers know how important it is to remain updated with technology trends. And, when it comes to the Apple smartwatches, it ranks at the top.
Apple has the world's renowned engineers, designers and marketers that keep updating the technology trends because they know what users want.
Thinking about buying a new Smartwatch? Apple series 5 can be the best choice for you. Because series 5 is faster than the series 3 and 4. 
It comes in two sizes which are easy to customize and comes with the different faces and straps. 
If we talk about the price and compare them with its competitors, you will find the difference. Apple Series 5 looks sleek, professional and you can wear in your office and while working out as well. 
To buy this watch from Amazon, Click Here. 
Now that you know why the Apple Watch is the best, let us now discuss which series is best for you. 
Which Is The Best Apple Watch For You?
My top choice is "Apple Series 5." 
I would recommend Apple series 5 if you are new here and if you have a series 2.  
Why is Apple Apple Series 5 best?
The combination of battery life, messaging, style of the watch, activity tracking and ECG tracks make up the Apple watch series 5 the best watch.
If you already have an experience wearing an Apple watch, you know how it feels wearing, because of its class, looks and a lot more.
Want Budget Apple Watch?
You have less budget and still, you want to get the maximum out of the Apple watches,  Apple series 3 can be the best pick for you.
Because it is really great and not that expensive compared to watch series 5. You only have to compromise with the screen and the rest of the technology is almost the same.
I would highly recommend buying this watch if you have less budget, you will definitely thank me later.
Buy here 
170 dollars from Amazon and $200.00 from Apple.
I hope you now know why Apple Watch is the best? And, I am sure you have decided which watch is best for you. Let me know in the comment section below,
I will be happy to answer your questions or anything you want to know.
Till then, take care.
Read more: Why Would I Need A Smartwatch?
7 Biggest screen size smartwatches available in 2020