There is always a unique functionality in every Apple Watch model that makes each one best for a specific purpose.  For instance, runners and artists look for different things in a smartwatch. If you want an Apple Watch for music, perhaps you will be preoccupied with the battery life and not the activity trackers.
The best Apple Watch for running and music is the Series 7. It provides additional sensors, which runners rely on to monitor their pace, elevation, and weather with significant accuracy. You can also listen to music with the Apple Watch Series 7 but added with running, the battery can drain very fast. I prefer the Apple Watch Series 5 if you need it for music.
The best Apple Watch for running and listening to music at the same time would be the Series 7. But its battery lasts for about six hours when the GPS and LTE are on during a marathon. The battery duration can even be lower if you run and listen to music at the same time. If your run will be more than six hours, the Apple Watch may not be ideal.
Being an avid Apple Watch user, I will share with you in this article my running and music experience with Apple wearables.
Related article: Best Apple Watch For Golf 2022
Apple Watch for running
The Apple Watch is good for tracking runs. To get accurate run data from the Apple Watch, avoid carrying your iPhone around. The GPS on board the iPhone may conflict with the watch's GPS and transmit unreliable data. Running with the BlueTooth switched off is also a good idea.
The default workout apps in the Apple Watch may sometimes be unreliable. Install other premium or free accurate workout apps.  For instance, the WorkOutDoors
app collects tons of metrics and maps them in the Apple Watch during a run. You don't have to transfer the information to Strava manually. The advanced workout app will upload your workout data directly to Strava once a cellular connection is established.
After using various Apple Watch models, I came to the conclusion that the Apple Watch Series 7 is the best for running.
1. Apple Watch Series 7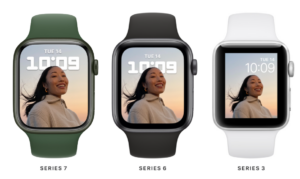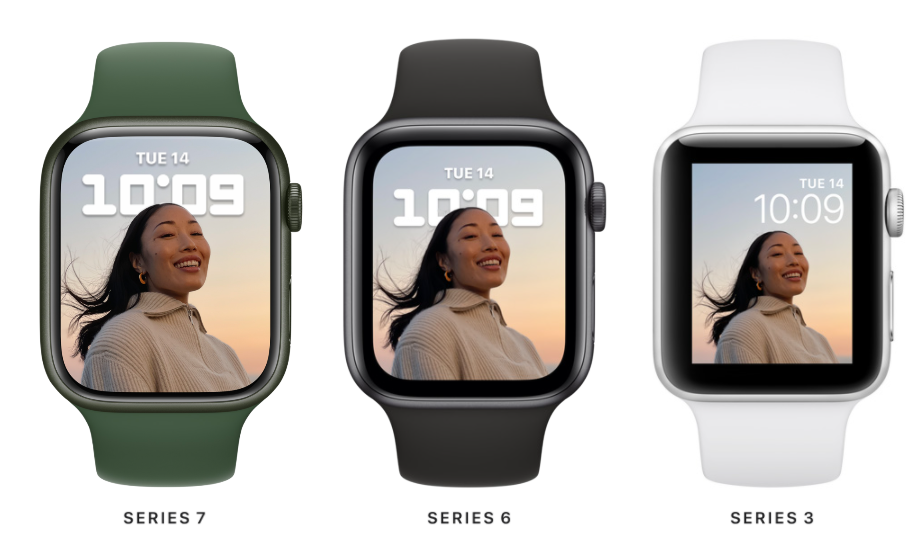 The Series 7 provides significant sensitivity to workouts. For example, you don't have to swing your hands wildly while running in order for the pace sensor to respond. It is very responsive compared to my experience with other earlier Apple wearables. Besides, if you receive a text while running, you can clearly respond using Siri even on a windy day.
The onboard barometer in the Series 7 is also quite surprising to runners and meteorologists. The barometer's sensitivity to changes in elevation during a workout is more accurate than in the Apple Watch Series 7 predecessors. 
Unlike Series 6, which has reportedly been accurate only 50% of the time, Series 7 is consistent in identifying weather and altitude changes.
The barometric readings are essential to marathoners because high elevations pose significant challenges. As air pressure reduces uphill
, oxygen molecules are further apart. Since oxygen is necessary for energy, runners get fatigued much faster than in lower elevations. The Series 7 will track your elevation whether you are indoors or outdoors.
Regardless of the time of day or weather, the Apple Watch Series 7 gives runners a true picture of the atmospheric pressure. With it on your wrist, you will know the kind of weather to expect during your workout.
Best Apple Watch running apps
Are you struggling to find the best app for tracking your runs on your Apple Watch? There are perhaps hundreds of them in the App Store that make the selection tedious.
Here are two of the best apps to install in the Apple Watch Series 7:
Best Apple Watch for Music
You can use any Apple Watch to listen to music. However, music is regarded as a high-resource functionality. In other words, it drains your battery a lot. Especially if you are streaming the music over Bluetooth. Therefore, how much a smartwatch consumes battery while playing music is something to consider.
You also have to consider the noise implications and the size of the Apple Watch. If you are concerned about hearing impairment or tinnitus
, for instance, you do not need loud music. Although you can control the volume in the audio settings, it requires enormous self-discipline to do so if you love hearing music. 
Let's take a quick look at why.
2. Apple Watch Series 5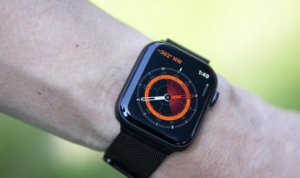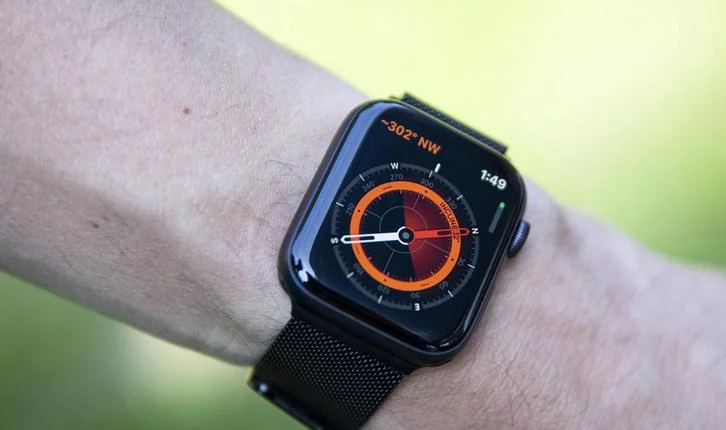 Like most Apple wearables, the Series 5 gives you access to a large music library. You can stream music from Apple Radio, Apple Music, Spotify, Pandora, and many more. You also get access to podcasts and audiobooks with the watch. However, unlike the Series 7, Apple Watch Series 5 has a smaller screen size. It is available in 40mm and 44mm sizes.
Therefore, it is quite affordable. Besides, the Series 5's watchOS 6 provides additional powerful functionalities for music and battery consumption.
It may be difficult to commit a smartwatch to music alone, when there are several benefits to extract from the watch. It is not just efficient in music but you can also track various workouts with the Series 5.
According to Apple, you should get about 18 hours of battery time if your Series 5 is fully charged. That means one hour of music and using the watch for other functions as well. Note, however, that cold weather areas may have an impact on your Apple Watch's battery performance.
You can increase the amount of music listening time by cutting down the duration you spend on other activities on your smartwatch. For example, check the time less often, receive less than 90 notifications in a day, and spend less than 45 minutes in a day on apps.
If your routine allows for that, you can get more than one hour of music from your Series 5. 
Best Apple Watch music apps
There are several apps you can use to stream music to your Apple Watch straight from the source. Most of these allow you to create your own playlists or listen to the ones Apple curates for you.
Here are some free and premium music apps to try in your Apple Watch Series 5:
Shazam (Free)
Pandora Radio (Three months free trial)
TuneIn Radio Pro (Premium)
Apple Watch for running and music
What about if you want an Apple Watch that's best both for running and music? Well, there is no other better choice than what we've already mentioned. The Apple Watch Series 7 will perform better for both functions. It has the additional advantage of being water-resistant, so it will endure sweat or rain during a workout.
Regardless of the weather you find yourself running in, the Series 7 will not register damage, nor will it develop scratches because of its crystal coating
. 
Only that you may find the battery draining pretty fast.
Recommended: Best Stress Monitor App for Apple Watch
Conclusion
Apple wearables are impressive smartwatches with enormous possibilities. The best Apple watch for running and music is the Apple Watch Series 7. But if you are specifically looking for an Apple Watch for music, go for the Series 5. 
My experience with these smartwatches shows that the Series 7's GPS, pace, and elevation measurements are accurate and consistent. Coupled with water resistance, the S7 is essential for runners.
I would like to hear your experiences with the Apple Watch Series 5 and Series 7 with regard to running and music. Share with us in the comments section below. Also feel free to ask any question you might have.